Part 1
Wear white….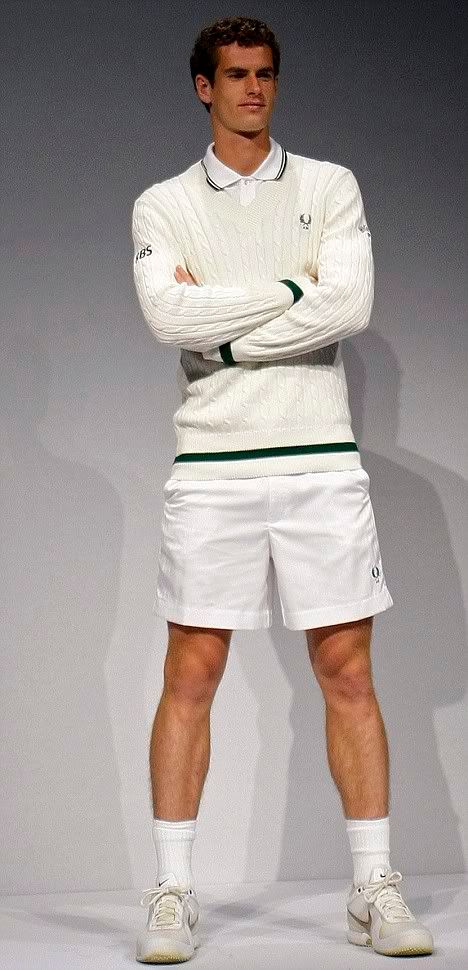 Part 2
Wimbledon is one of the most famous and prestigious tennis competitions in the world, with debenture tickets (the most expensive seats that sell in 5 year blocks) going from anywhere between £50,000 up to a reported £100,000! Thus you would expect a strict dress code being imposed on such an event for which people are still prepared to pay half the value of the average UK house to attend rather than watch the free BBC broadcast.
The truth is that this year Wimbledon relaxed the dress code, to t-shirt and jeans. This huge jump in the dress code was obvious from comparing the crowd from last year's centre court matches to this year. Last year's crowd was a sea of blue and tweed blazers with old school ties and perfectly ironed shirts, sadly this year saw many people wearing cargo shorts and t-shirts.
I have no issue with people wanting to dress casually for a sporting event, it simply annoys me that so many men would rather throw on a t-shirt, than put the time and effort into their appearance like so many women that attend Wimbledon. It shows a lack of respect for your other half. Thankfully there where a number of men that still dressed up for Wimbledon. In my opinion, the best dressed men at the tennis this year was Eddie Redmayne, David Beckham and Bradley Wiggins. These three men excelled themselves: David wore a fantastic smart beige tweed suit with black striped tie and white shirt, whereas Bradley Wiggins wore a dark blue three piece suit.
Ironically, the players themselves have found increasing pressure on their attire in recent years as Wimbledon has started enforcing 'whiter' and plainer tennis whites in an attempt to prevent brands being so overtly obvious when the stars on court attire is broadcast. All the media attention on Wimbledon has left many men confused about what they should be wearing whilst attending such an event, regardless of if they are in the debentures on centre court or sitting on Murray Mound/Henman Hill.
So, what should you and I wear to Wimbledon? We at The Perfect Gentleman believe that you can never be overdressed, however, there are certainly socially acceptable dress codes for the different areas of Wimbledon.
Henman Hill/Murray Mound
The bump that has recently caused controversy over its name is as famous as the strawberries and cream. It is often a spectacular location to watch the live screen whilst enjoying a homemade picnic and bathing in the atmosphere of the crowd. The dress code can be very informal as the relaxed atmosphere and park like nature of the space means that a pair of chino shorts, a smart polo shirt and a pair of clean pumps will allow you to be comfortable and cool. If you are going to sit it out on the hill, remember to drink lots of water and join in with the fun with a homemade picnic.
The Courts
The courts are the most affordable way to get a courtside view at Wimbledon, however because you are closer to the action it is socially accepted that you should be smarter in your attire. I would recommend leaving the shorts at home and sticking with a good pair of smart trousers, with a shirt and smart shoes. A great look would be an ironed blue shirt, combined with a pair of white cotton trousers and smart blue driving shoes. If you want to add an extra embellishment to the look, a light cotton or linen blazer will make this a perfect smart casual look for the warm Wimbledon weekends.
Centre Court
Centre court, a legendary arena that allows men and women to display their athletic prowess, all in the pursuit of covering themselves in glory. I suppose it could be thought of as a modern day Colosseum, with a sliding roof, strawberries and cream. Centre court is the most prestigious court at Wimbledon with the public, celebrities and Royalty flocking in from around the globe to watch the biggest names in tennis. Thus we would recommend a formal dress code for the lucky few that make it to centre court. A light tan tweed suit with an ironed white shirt, dark blue paisley tie and black brogues is a perfect outfit for any man wanting to stand out from the crowd.
Regardless of what you decide to wear at Wimbledon, remember that if you have, dirty trainers, ripped or designer damaged clothing and a preference for anything punk, you may not be allowed in. It is always wise to dress up for the event, not only to ensure you can enter, but also because you never know who you are going to meet. Wouldn't you want to look your best if you ran into David Beckham, Prince William or even the Queen? We thought so.